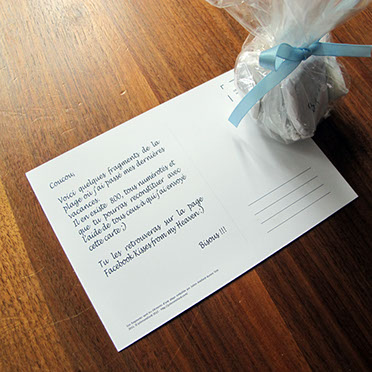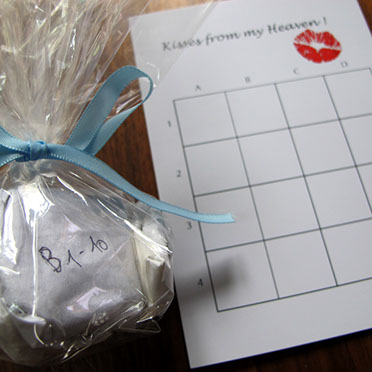 KISSES FROM MY HEAVEN
performance, corbeille, sachet en plastique contenant les fragments d'une plage
performance, trash, plastic bag containing fragments of a beach
Première monstration : Place Arnaud Bernard, Toulouse, 2013
First demonstration: Place Arnaud Bernard, Toulouse, 2013
La performance KISSES FROM MY HEAVEN consiste en la vente sauvage d'une plage.
Cette plage est un espace équivalent à une serviette de plage et demi, un carré emballé méticuleusement morceau par morceau sur l'une des plages de Toulon. Ces morceaux sont des coquillages, des galets, des mégots de cigarettes, des algues et un préservatif usagé.
Chaque morceau est numéroté permettant ainsi de réassembler cette plage.
Durant la performance KISSES FROM MY HEAVEN, accoutré de tous les apparats d'un vendeur de chou-chou sur une plage, clamant à la ronde « PLAGE, PLAGE, QUI VEUT UNE PLAGE ? », je revends les morceaux de cette plage toulonnaise sous la forme d'un sachet de chou-chou contenant 8 morceaux du carré initial et une carte postale détenant les informations permettant la reconstitution de la plage telle que l'adresse de la page Facebook via laquelle les différents acheteurs pourront se retrouver pour retrouver ce fragment de paradis qu'est la plage.
Adresse Facebook : https://www.facebook.com/pages/Kisses-from-my-heaven/186673938177047?ref=hl
The performance KISSES FROM MY HEAVEN consists of an illegal selling of a beach.
This beach is a space equivalent to a beach towel and a half, a meticulously packed square piece by piece on one of the beaches of Toulon. These pieces are shells, pebbles, cigarette butts, algae and a used condom.
Each piece is numbered and reassembled for this range.
During the performance KISSES FROM MY HEAVEN, dressed all the trappings of a cauliflower cabbage seller on a beach, claiming the round "BEACH, BEACH, BEACH WHO WANTS A BEACH ? " I sell the pieces of this Toulon beach in the form of a cauliflower cabbage bag containing 8 pieces of the original square and postcard holding information for the reconstitution of the range as the address of the page via Facebook which the various buyers can meet to find this piece of paradise beach.
Facebook Address: https://www.facebook.com/pages/Kisses-from-my-heaven/186673938177047?ref=hl